PhonerLite Outlook Contacts click to dial with Menudex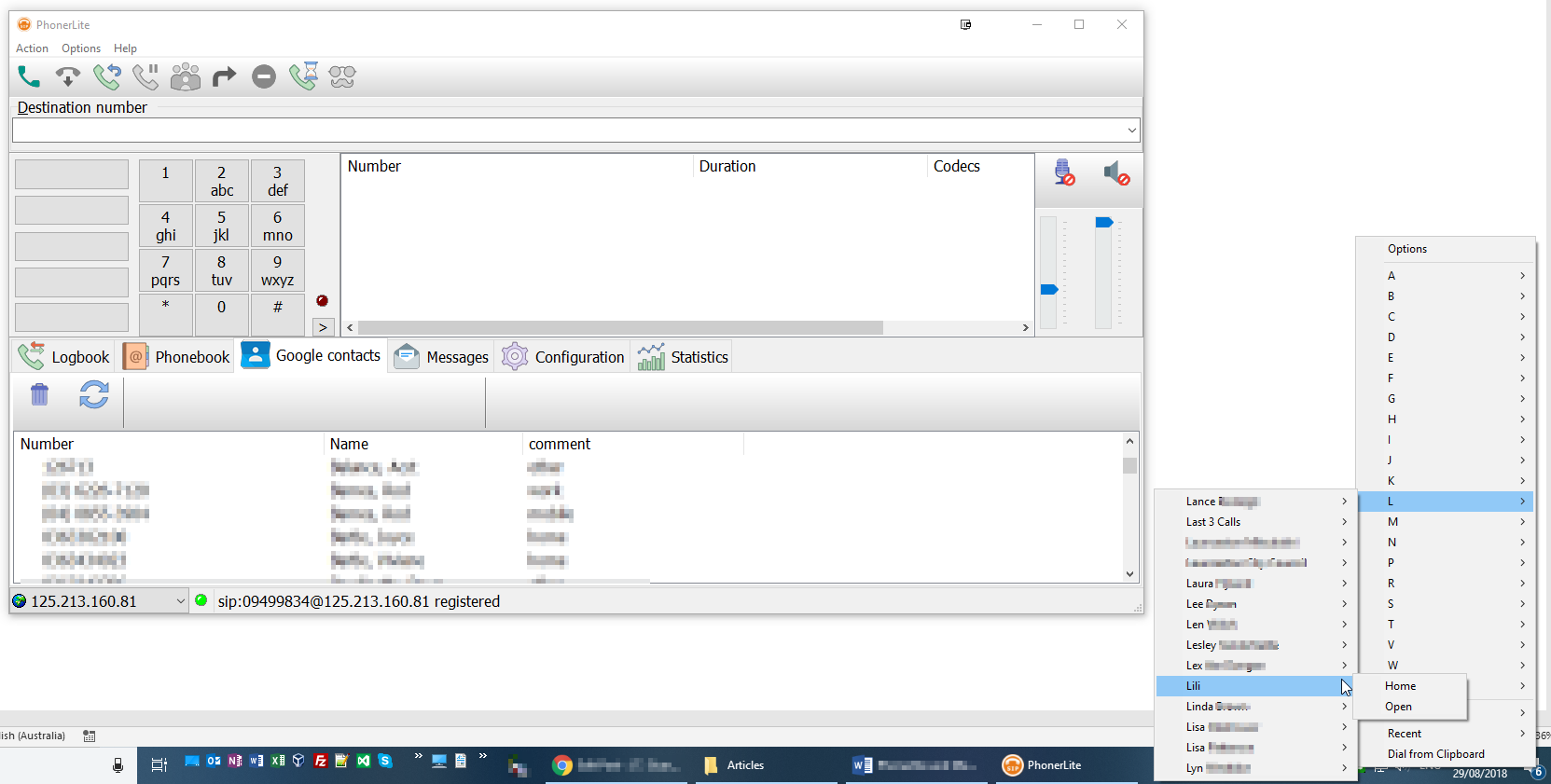 Menudex is the application that sits in your system tray and can then be used to quickly locate your Outlook contacts and either, dial, SMS, Skype, or email them.
Menudex does not feature an inbuilt dialler, which is where PhonerLite comes in. Menudex enables PhonerLite Outlook contacts dialling.
Menudex places all Outlook contacts in a series of menus (A to Z) as well as menus for companies, Recent, and Frequent. Using these menus finding your contacts is a breeze and calling them is instant when used with PhonerLite..
PhonerLite is a softphone that can call contacts over the internet using VOIP (Voice Over Internet Protocol).
Did I mention PhonerLite is completely free of charge with no adware?
PhonerLite Features
PhonerLite is an amazing program, with oodles of options and configurations.
Select from any of your input and output sound devices
Independently select which device rings, your headset or your speakers. This is handy if you are not always seated at your desk with you headset on.
Multi-language support for the program interface.
URL protocol handler. So, clicking on those phone links in web pages, will automatically dial using PhonerLite, if this option is selected.
Option to sit and hide in the system tray, which is great so that the program stays running but is just a click away and doesn't take up any space on the task bar.
Just like Menudex Outlook Contacts to VOIP dialler, PhonerLite starts up fast, with no splash screen, and hides in the system tray, when the computer is turned on.
Scale the program to be viewable on high resolution screens, handy for those of us whose eyesight is deteriorating.
Open other programs on any or all of, incoming call, connected call and call completion events. This is very useful for automatically writing memos about the call, in other software, or for filling in the holes that the program leaves such as an external ringer.
Auto-answer option, is useful for automated facilities
PhonerLite syncs with Google contacts. Users can then dial from the contact from PhonerLite's list directory. But using this feature enables onscreen caller identification.
Logbook, is valuable for diagnosing setup and configuration problems, but also for tracking contact history and missed calls.
Onscreen Caller identification is available when contacts are entered in either the address book, or google syncing feature is enabled.
Multitude of VOIP protocols available.
Works with Asterisk which is the most popular open source communications toolkit.
PhonerLite Interface
PhonerLite has a well laid out interface. It is not overly cluttered. Though if it was me, the configuration and server information should be hidden in a menu. This makes PhonerLite feel overly complicated, which it isn't. It is easy to miss the save button when changing a server configuration setting. It is better to ask and warn a user that they are navigating away and give the user the option to save the changes as most other applications do.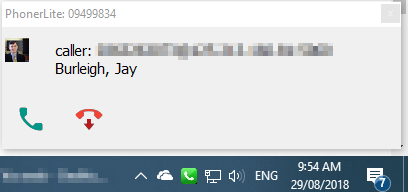 Incoming call notifications pop up above the system tray. The accept and decline buttons are a little small for my liking, even though I have used the maximum scaling that PhonerLite allows. Bigger, wider buttons that were button like rather than pictures would be better.
Support for PhonerLite is available on its forum and the support is excellent. The developer implements new features regularly.
PhonerLite Outlook Contacts
The best part of installing both of these products is that it enables PhonerLite to use Outlook exchange contacts. Menudex reads all the contacts out of the Outlook address book. Menudex is the PhonerLite Outlook conduit.
On the whole PhonerLite is the best in its class for VOIP diallers, with easy access to lots of configuration options. The only thing lite about it, is its size, rather it is packed to the rafters with features. Menudex is the best companion app for PhonerLite.